Our Family-run Company Is Built On A Good, Solid And Very British Principle; If A Job's Worth Doing, It's Worth Doing Well
CNC Milling
Our CNC mills are able to machine intricate, precise one-off parts, or batch quantity of thousands, both from plastic or aluminium. The strictest quality control standards are operated throughout every stage of manufacture.
Turning
We have recently expanded our machine shop from one NLX 2500 SY/700 Mill Turn machine to include two brand new DMG Mori CLX 450 Universal Turning Centres.
Fabrication
Whether it's a machine guard or a plastic tank, our skilled engineers will bend, weld and bond quality stock plastic to perfection.
CAD-CAM
Vaplas uses CAD (Computer Aided Design) CAM (Computer Aided Manufacturing) software to generate toolpaths that drive machine tools to turn designs into physical parts. CAD/CAM software is used to design and manufacture prototypes, finished parts, and production runs.
CNC Routing
Our investment in CNC routers with full CAD-CAM operation and 4th axis units ensures a routing service which delivers a professional, prompt and precise service.
Vaplas are able to produce almost any cut shape from an extensive range of industrial plastics achieving an exceptional standard of finish and accuracy every time.
Skilled machinists will work with the customer, assisting with problem solving during the design process and recommending cost saving options.
Quality & Service
With stringent quality procedures in place for all aspects of production, an ISO 9001 accreditation and other demanding testing and inspection procedures, Vaplas also invests in employee training and development to ensure both a service and a team which inspires customer loyalty.
Plastic Machining in Southend-on-Sea
The plastic machining process in Southend-on-Sea begins with a set of 3D files used to operate the machining centre, and will machine directly into a plastic block, which is in turn used to shape the plastic, part itself. After the process, the part receives surface treatment and submitted to quality control (using tools such as callipers and micrometres), and any finishes are applied, before being released to the world.
Several techniques are used within the CNC process to obtain the makeup of the specific bespoke shapes, and each plastic machining technique has its own machine. Examples of production methods include turning, milling and drilling.
At the very beginning of the plastic machining process in Southend-on-Sea , it is very important to ensure the 3D files are correct.
Analysing these will provide you with invaluable information about the feasibility of the end product and an approximate cost going off the material. In order to minimise the cost and optimise production of the bespoke plastic parts, the geometric makeup can be altered.
Some areas within the 3D design files may not be feasible with the current technologies, or you may wish to change the design after seeing an approximation of how it would look.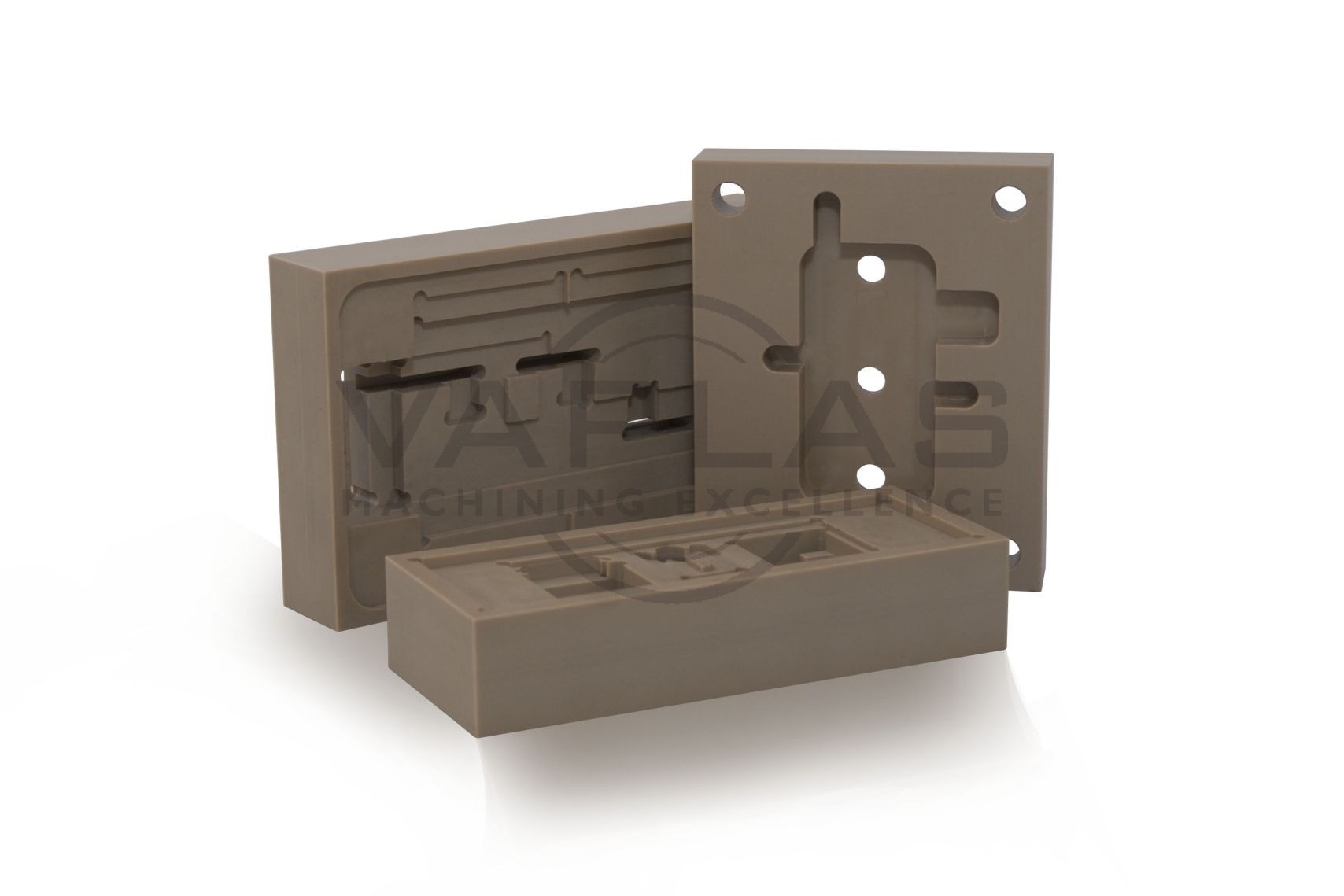 Drafting, redrafting and undercutting are important elements of any design, and cannot be underestimated in Plastic Machining Services in Southend-on-Sea either.
Lathing technology provides you with that perfect finish, regardless of the nature of your part, and gives the products real clarity for the eyes, as well as ensuring your plastic component is of the highest quality.
This technology is equipped with milling heads and sub spindles, to ensure your unique designs are realised, while being efficient in terms of turnaround times.
Other aspects of Plastic Machining Services in Southend-on-Sea include annealing (or stress relieving) of the products, which can improve the longevity of the plastics.
Polishing is also key to plastic machining in Southend-on-Sea , and can be summarised into three types.
Flame polishing uses a hot flame to flow a surface, and can produce an incredibly clear finish (particularly on acrylic plastic) when done right.
Vapour polishing uses a chemical vapour to attack the surface of the plastic, allowing it to flow and generally freeing it up, whereas mechanical polishing is the most common (and easiest) method, but can leave very fine scratches on the product.
The prices of materials may vary from one to another quite considerably, and the same principle applies to the characteristics of the material itself, and some materials may not be appropriate for your desired product due to its chemical makeup.
Materials have varying characteristics, and are not compatible with some CAD software (for example, uniquely shaped hinges are usually manufactured using vacuum casting rather than a CAD process).
Contact us today?
We are happy to answer any questions you may have on the different plastic machining processes that we use, or even give you a quote on the work you would like to be carried out.
Ask us about machining aluminium too.
Call now on 01924 220 050 and one of our friendly and knowledgeable team will gladly answer any queries you may have.
Contact Details
Unit 6 Tuscany Court
Express Way
Normanton
West Yorkshire
WF6 2AE
P: 01924 220 050
E: sales@vaplas.com