Retail Supermarket Checkout Sneeze Screen Guards
Retail Supermarket Checkout Sneeze Screen Guards are the perfect product for protecting your retail staff from the spread of germs, offering a professional appearance and allowing customers to interact with your staff safely. A retail checkout sneeze screen guard is a worthwhile investment for any retail environment such as supermarkets, receptions and other customer facing areas. Our retail supermarket checkout sneeze screen guards are produced to the highest standard, all edges have been extensively smoothed to ensure that there are no sharp edges. Sneeze screen guards not only keep staff safe, they will assure your customers that you are taking the safety of people within the building seriously.
It has become clear that protecting frontline staff from bacteria is a matter of importance, our retail checkout sneeze screen guards are a worthwhile investment for the protection of your workforce. Healthy staff is a crucial asset to have as a business, as they are the driving force behind your operations. Therefore, if you are concerned about the health of your staff, fitting a retail supermarket checkout sneeze screen guard is an ideal way to protect them from unwanted bacteria. Staff illness can be costly for any company, a one-off purchase could help to reduce this and keep your business running smoothly.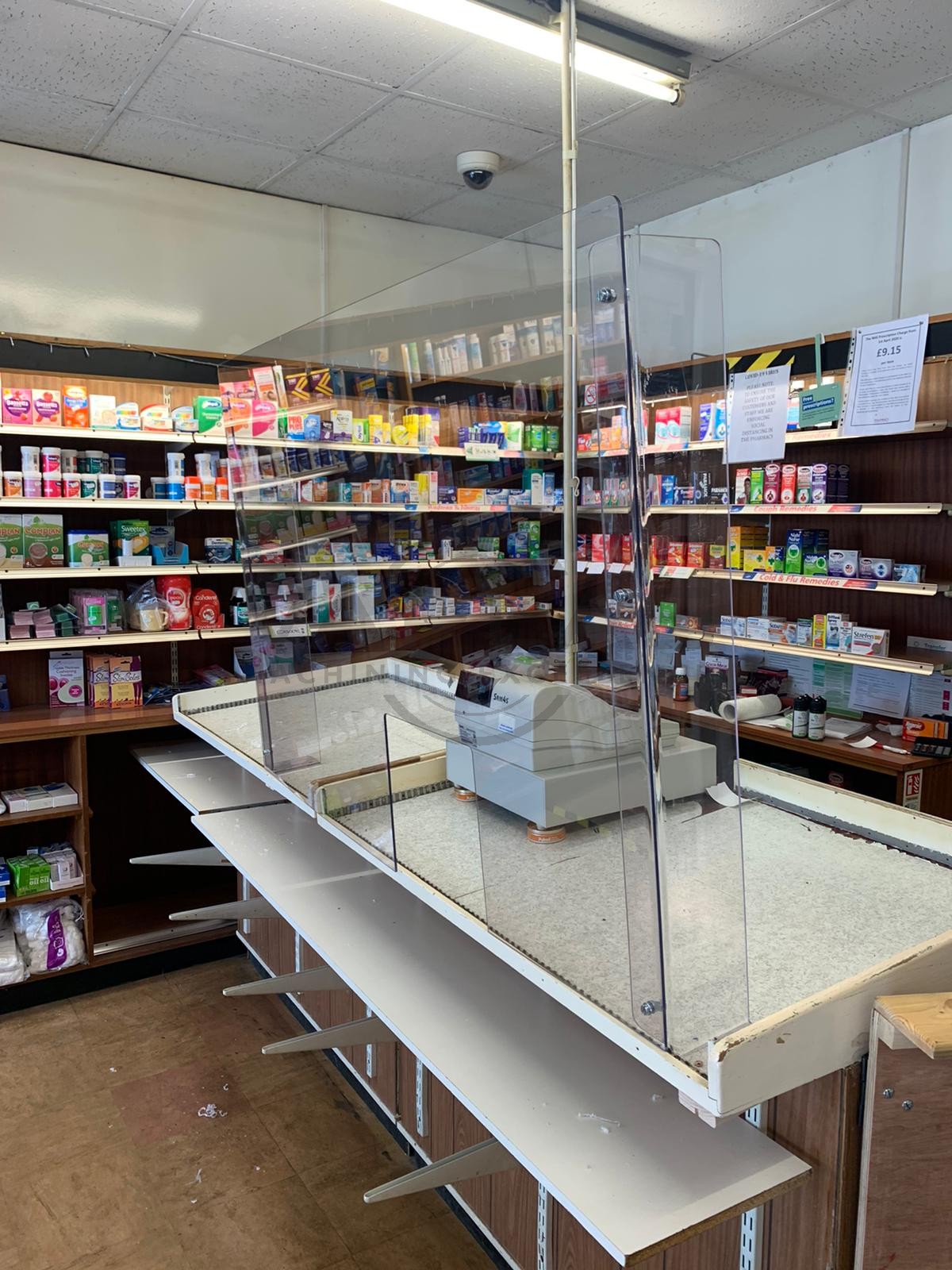 The Retail Supermarket Checkout Sneeze Screen Guard is made from a long-lasting clear perspex material that has been designed to be easy to clean for the highest levels of hygiene. The durability of the screen guards means that they require little maintenance to remain usable for a long amount of time, making them a sound purchase for any frontline business. The sneeze screen guard is made from 4mm thick perspex that has a 10 year UV guarantee, giving the peace of mind that the screen will remain clear for a significant length of time.
If you are interested in our retail checkout sneeze screen guards, then please do not hesitate to get in touch and we will gladly assist you with your enquiry. We aim to deliver all products within a prompt timeframe so you can protect your staff as soon as possible.
Vaplas Ltd are proud to supply protective screens to help the current fight against COVID-19 to offer and reduce the infection risk posed on staff and visitors.
Our screens can be supplied in both standard sizing and bespoke sizing for any and every industry.
We have designed our screens to offer the easiest and simplest installation in order to minimise the requirements for site visit at this uncertain time.
Our range offer free standing protective screens, fixed mounting screens and ceiling hanging screens all with options for cut out window segments for the ease of transactions via the screen with minimal contact.
Fixed Mounting Screens
Contact us today?
We are happy to answer any questions you may have on the different plastic machining processes that we use, or even give you a quote on the work you would like to be carried out.
Ask us about machining aluminium too.
Call now on 01924 220 050 and one of our friendly and knowledgeable team will gladly answer any queries you may have.
Contact Details
Unit 6 Tuscany Court
Express Way
Normanton
West Yorkshire
WF6 2AE
P: 01924 220 050
E: sales@vaplas.com